Meet Our Graduates
Melissa Archpru Akaka
The Shidler College of Business Doctoral Program was instrumental in guiding my pursuit of a career that is centered on my passion for marketing. The array of Faculty expertise within the College provided a unique opportunity for me to explore different viewpoints and fields of study within marketing and related disciplines. This enabled me to identify interesting intersections among consumer behavior, strategy, international and service-centered research, and paved the way for my ongoing efforts to study and teach others about collaboration and value creation in markets.
My experience in the PhD program not only established a solid foundation for developing an academic career, but also taught me to consider alternative perspectives for developing new knowledge and a deeper understanding of markets and marketing.
Melissa Archpru Akaka, Ph.D.
Assistant Professor
Department of Marketing
Daniels College of Business
Denver University
---
Daoping He
The Shidler College of Business Doctoral Program played a crucial role for my career transition to academia. A wide variety of seminars challenged the limits of my intelligence, trained my research methodology, and made me a rigorous and insightful researcher. I was able to observe renowned professors lecture and share their insightful teaching experience. I also had opportunities to teach classes and received encouraging feedback from other professors. Most importantly, I had chance to work with world-class faculty and publish with them. The professors in Shidler are enthusiastic in their research and teaching and are my role models in my academic career.
Daoping He, Ph.D.
Associate Professor
Department of Accounting and Finance
Lucas College and Graduate School of Business
San Jose State University
---
Thomas Mattson
The PhD program at the Shidler College of Business provided me with an excellent foundation to begin my academic career.  While pursuing my degree, I had the opportunity to work with excellent scholars from a variety of disciplines before focusing on information systems management.  The ITM department at UH Manoa has a passion for technology and technology-related research.  Much of my education came from the wonderful conversations about systems and technology I had with the faculty as a part of formal classes as well as informal discussions.  Even after graduation, the ITM faculty are still offering tremendous support for me in all aspects of my academic career.
Thomas Mattson
Assistant Professor of (Information Systems) Management
Robins School of Business
University of Richmond
---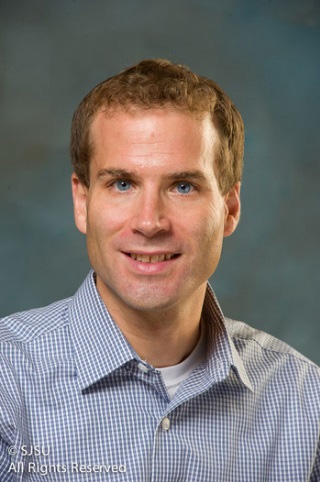 Michael A. Merz
The Doctoral Program at the Shidler College of Business prepared me well for my professional academic career. At Shidler, I had the privilege of learning from internationally renowned faculty and highly talented peers. I had the opportunity to publish with my professors, teach a diverse student body, and take a wide array of courses within and outside of the college. Similarly important, being at Shidler helped me grow personally. It allowed me to experience a unique and multicultural environment where East meets West. I was able to educate my mind and my heart. For that, I will always be grateful.
Michael A. Merz, Ph.D.
Assistant Professor
Marketing & Decision Sciences 
College of Business 
San Jose State University
Skylar Powell
I was very fortunate to study in the PhD program at the Shidler College of Business. The program offers a strong theoretical and international focus coupled with top-notch methodological training. At the heart of the Shidler PhD is a faculty that truly cares about the students and can mentor and inspire you. Pursuing a PhD is a transformative experience, and if you are prepared to open your mind and put forth your best effort, the Shidler PhD program is an excellent opportunity to push yourself to achieve great things!
Skylar Powell
Assistant Prof.
Western Washington Univ.
---
Valerie Rosenblatt
Joining the Ph.D. program at the Shidler College of Business was a life changing experience. I was given a chance to learn from the faculty who are not only world-class scholars but amazing mentors. They inspired me to develop my own research streams and provided many opportunities to collaborate on a variety of research projects. Shidler's interdisciplinary doctoral program and expertise in international business gave me a strong and broad foundation in research and teaching, gave me a big picture and global perspective, and allowed me to develop connections across fields and countries. I was also fortunate to be a part of a multicultural and intellectually stimulating community of PhD students who became great colleagues and friends.
Valerie Rosenblatt
Asst. Prof.
San Francisco State University
---
Kim Shima
I am grateful for the help and guidance of Dr. David Yang and the other professors that I had while going through the Doctoral Program at the Shidler College of Business. The outcome of the College's graduate program relies on the knowledge and passion of the faculty who teach and guide the students through the process. With their help, I was able to move on to the next chapter in my life and for this I am forever in their debt.
Kim Shima, Ph.D.
Associate Professor of Accounting
Department of Accounting and Finance
College of Business and Economics
California State University, East Bay
---
Greg Stone
The University of Hawaii's PhD program is great! There was never a dull moment while I was in the program, whether it was rushing to class, cramming late at night for test or trying to get to the beach for a couple hours of fun on the weekend. There was a lot of camaraderie among the participants and we all still keep in contact. UH is a great place to study!
Greg Stone
Associate Professor of Finance 
Director, Master of Science in Finance Program
University of Nevada, Reno
---
Ning (Tony) Tang
The Doctoral Program at the Shidler College of Business changed my life. My adviser and other faculty members at Shidler taught me how to be a researcher, an instructor, and more importantly, a hard working honest individual. The Program gave me rigorous training and at the same was flexible enough to allow me to develop my own research interests. I was exposed to various finance topics due to the diverse research interests of the Faculty members, who were always ready to help and welling to work with doctoral students. The entire school was very supportive to doctoral students. I benefited tremendously from the friendly environment. Without all the supports and guidance, I wouldn't be where I am today.
Ning (Tony) Tang, Ph.D.
Associate Professor, Finance
Laurier School of Business & Economics
Wilfrid Laurier University